Karl Lagerfeld Launches Olympic Collection At Selfridges
Karl Lagerfeld's Olympics-themed collection for his eponymous label caused a stir at Selfridges in London this week. The department store, famed for its avant-garde collaborations and sumptuous stock, has readied a
pop-up shop
filled with his designs in recognition of the London 2012 Games.
Lagerfeld arrived at the opening wearing his usual monochrome suit and leather gloves, surrounded by a group of frankly beautiful young men in similar attire.
The Autumn Winter 2012 KARL line will be available at the store, celebrating London's most stylish and unique artists and models, including Poppy Delevigne and Alison Mosshart from The Kills. Their presence lights up the campaign, highlighting the array of fresh talent currently emnating from our beloved Capital.
The Team Karl collection, housed on Selfridges's third floor, includes sporty biker jackets, skinny jeans, and three metallic collars in gold, silver, and bronze.  Prices range from about £95 to £325.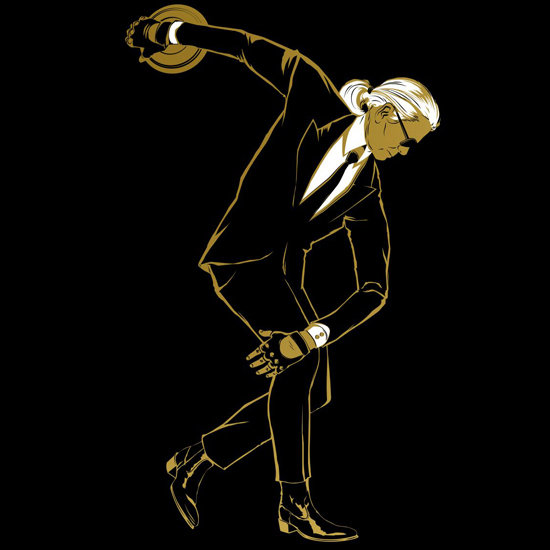 This week, also marks the Selfridges unveiling of Lagerfeld's new luxury menswear line, Karl Lagerfeld Paris Man.
Selfridges decorated the pop-up with Lagerfeld's insignia (the profile of his face dominates one section of the shop as a white neon light fixture), and its windows feature mannequins in athletic poses wearing Team Karl clothes.
French star Josephine de La Baume rocked an effortlessly stylish look in ripped skinny jeans, a monochrome blouse and studded ankle boots, while fashionista Daphne Guinness mirrored Karl's black and white look. Mario Testino, Prince Harry's former squeeze Florence Brudenell-Bruce and model Tallulah Harlech also joined the designer at the bash.
What a star-studded affair! We can't wait to get our hands on the collection…
FashionBite xx